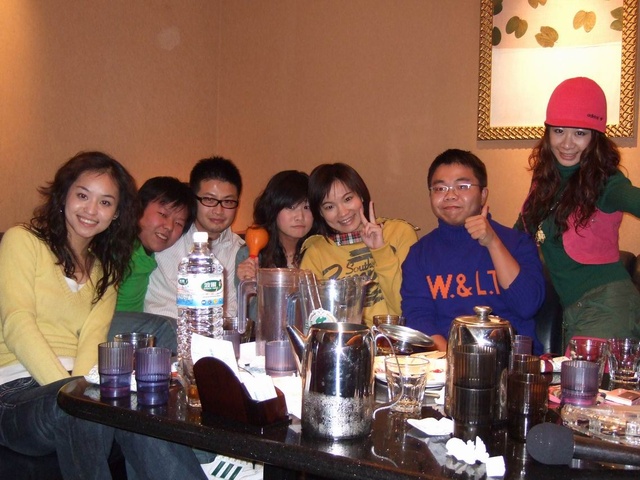 ~~~Omega~ ~~
On Sunday afternoon(1/13), it was "Super Stupid Avenue" lived show!
Dennis was good at changing his tones. Ray sang better after drinking. Robert's tender voice let us feel like in paradise. (Thank you so much Omega~~) Alice had the best courage to challenge new songs. Mandy was the most active. Bonita had cute and young voice.
Although everyone was dressed colorful, only Robert broke the rule.
(I'm sorry…..)
As a teaching, he should get some punishment.
The atmosphere was too high to stop, so we went to eat hot pot after Cash Box.
In the restaurant we got many breathtaking inside about someone beyond expectation!
Ha ha ha………………….


~~~Bonita~~~

On Sunday, I went to cashbox with classmates of David's EnglishCenter. We had a funny party that was 超級兩光大道.
Everyone needed to prepare three songs that were English, heaven and hell and put on colorful clothes. If I was a judgment , the queen of dressing was Omega. I felt she was very cute on that day. And everyone was the best singer.
I was so happy….Teacher said: we could go out together during the Chinese new year. I wanted to say "be attended, ok?" I like you all very much.


~~~Alice~~~

On Sunday, I attended the 超級兩光大道 that was a match of sign in cash box.
All of entries were my classmates of David's English Center. Everybody wore colorful, besides Robert.
We drank some wine and took a lot of pictures. I felt so surprise to everybody's voice. I think everybody can be a singer.
After KTV, we went to eat hot pot and drank some rice soybean milk. I believe everyone were very happy on Sunday.
At last, I want to appreciate the help of Dennis and the gift of Omega.


~~~Dennis~~~
Sunday wss a big day for me.Because I had to attend "Super Two Lights Road".
I think Mandy and Omega ,Both of them are the best in our class.
Could I be your FAN? please…
Mandy taught me if I wanted to sing girl's song. I should rise the key. That's could make me easily.May someday I could practcie in that way.
I was so happy and marvel about this party.I've been to the B3 class before. But They weren't like our class.Everybody is the best buddy is David's English.
Wishing we could go out again.
I love you~